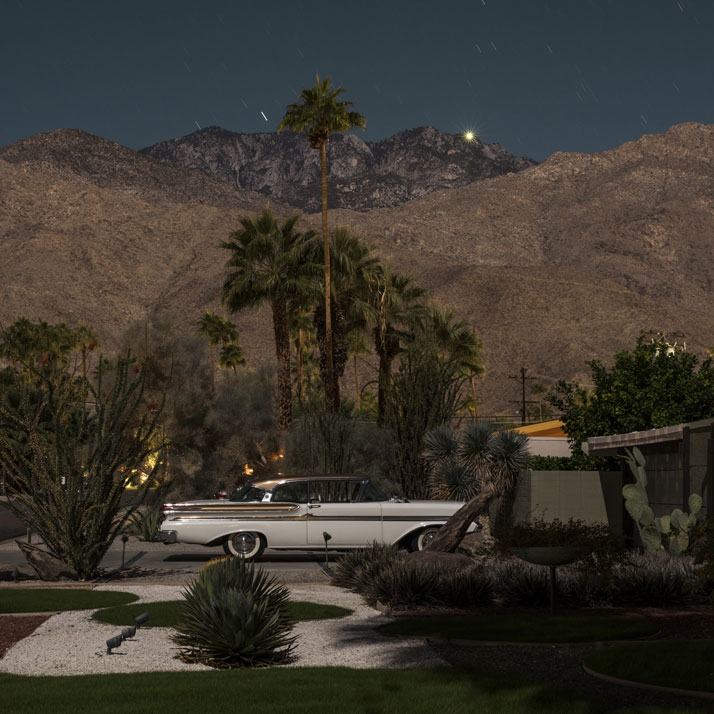 In a rich technicolor palette set in Palm Springs 1958, Shangri-La is the story of Morris Thorne, an exiled LAPD detective, who has returned to his hometown after his partner, Lieutenant Lombard, was brutally murdered on a mob case back in Los Angeles. While following up on a lead, Morris unexpectedly attends a party hosted by the world's most notorious mob boss and corrupt criminal mastermind, Nick Cerone, who Morris believes had a hand in killing his partner. But it's only when Morris meets Hollywood's biggest star, Vera Thompson, that he realizes why Lombard sent him here — she could be the key to Nick Cerone's downfall.
Shangri-La was an idea born four years ago out of attempting a noir film. We say 'attempting' because it has already been done well so many times. It's a visceral genre that gets under the skin. Why? Because it speaks truth, it speaks to human behavior, flaws and all. But the real reason we're attempting our own version is because we've never seen it done this way before. Perhaps it's because right now one of the biggest flaws in human behavior is finally getting it's own spotlight: unequal representation of women in cinema. And yes, we are two female filmmakers (twin sisters even), but that's not why we set a noir in a desert with a female heroine and a discriminated detective. It's because we haven't seen a film like this, and our parents who raised us as cinephiles have never shown us a desert noir. Shangri-La is a film that what we want to see that we haven't seen before. And we want to make this film with our own style, humor and tone through stunning visuals and a uniquely female lens.
KIMBERLY & WENDY WILLMING // Co-Directors, Exec Producers
Kimberly and Wendy grew up in San Antonio, TX and were raised watching movies and always wanted to become a part of the filmmaking process. They moved to Los Angeles in 2009 and interned at some of the top studios in the industry (Fox, Marvel, and Sony Pictures). Wendy navigated her way through Marvel Studios and became a Co-Producer at Marvel TV, on Marvel's Agent Carter, Marvel's Cloak and Dagger, Marvel's Runaways, and Marvel's Agents of S.H.I.E.L.D. Kimberly began her career at Sony Pictures before moving to Mary Parent's company under Paramount Pictures. She worked for SyFy's The Expanse as a script coordinator and currently works for showrunners', Michele Fazekas and Tara Butters, under their ABC Studio company. The lifelong dream for Kimberly and Wendy has been to write, co-direct, and produce their own film endeavors. Shangri-La is a proof of concept for their feature length noir of the same name.
NOELLE HUBBELL // Producer
Noelle is Los Angeles native and has been in the film business for over 10 years. She started at Panavision learning her way around the camera. In 2013, she transitioned to Production/Producing and has worked on shows such as The Mick, and most recently, Marvel's Agents of S.H.I.E.L.D. and NBC's Superstore.
With your contribution we'll be able to shoot on-location in Palm Springs, pay talent, crew, housing and bring our story to life.
Thank you for your support!